What Is Motor Club of America?
What Is Motor Club of America?
What Is MCA? What is Motor Club of America?
Established in 1926 by William W. Green,
Motor Club of America
is a premier roadside assistance based auto & discount club
with over 10 million members in the U.S. & Canada, specializing in
emergency
road service
& tow benefits, as well as 150k in other driver related benefits. Our
members also enjoy over 100k in other benefits, perks and discounts for nondrivers.
Motor Club of America is your average auto club on steroids! We are also the
auto club that pays it's members, making entrepreneurs out of hundreds of
thousands of our members across North America!
MCA
has recently implemented
a generous direct sales associate referral compensation program, in conjunction
with
TVC Matrix.
Some companies invest millions in commercial advertising,
others wisely invest advertising dollars in word of mouth referral advertising
from existing members. This new venture, combining the marketing power of TVC
and the incomparable benefits of MCA, is taking both the direct sales and auto
club industries by storm and we are looking for ambitious individuals to continue
expanding the MCA brand across the U.S. and Canada. Based on work ethic and
consistency of course, working with MCA can be supplemental income or six figure
income. TVC Marketing associates are paid weekly commissions via direct deposit every friday,
and our valued MCA customers benefits are active immediately!
Motor Club of America
has no binding contractual agreement, and no cancellation fee!
So What Does Motor Club of America Offer?
Road Service Benefits

Roadside Assistance

- We provide unlimited roadside service 24/7 with towing up to 100 miles.

No immediate Service fee! No Cap On Yearly Benefits! Visit MCA Total Security for a full list of your member benefits.

---

Discounts

Prescription Drug, Vision Care and Dental Discounts

- You'll enjoy significant savings and discounts on the things you use the most. Up to 60% off prescription, vision and dental services.

Motor Club of America

uses the WellCardRx, Outlook Vision and DenteMax networks.

---

Income!

TVC Marketing

acquired Motor Club of America in 2011 which allowed MCA members to become independent direct sales associates and share in the company profits. Active MCA members can register as

TVC associates

and earn $90 per new MCA membership referral with the unique TVC Matrix Direct Sales compensation plan. To find out more visit

TVC Marketing Associates INC

. To get started right away as a TVC associate, head over to

tvcmatrix.com

.

---
*
MCA Motor Club of America
makes no guarantee of income. The photos and video of associate success displayed are factual and are strictly for testimonial purposes. Earnings are based on individual effort. For more info see our
disclaimer
.
Motor Club of America MCA Benefits!

To learn about the Motor Club of America incomparable benefits packages...

TVC Marketing Associates!

To learn about TVC Matrix and earn 200% commissions from a $40 investment (highest payout in the industry)...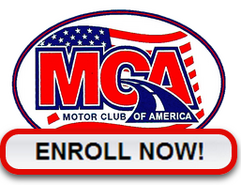 For questions concerning the TVC Associates program:
Contact TVC agent Oscar:
Phone:215-821-9685
Email:
oscar@mcaworkfromhomeempire.com
(If no response please check your junk)
Mailing Address:
TVC Matrix
3200 W. Wilshire Blvd
OKC, OK
73116
For questions concerning MCA Benefits:
MCA Toll free customer service number:
1-800-227-6459
Click Company Reference Below​
Corporation
TVC​​​
Corporation
MCA
Mcamotorclubofamericahq.com does not share your contact information.
Any requested data is solely for correspondence purposes. For more information
see our
Privacy Policy